Chatbots and the Digital Transformation of Higher Education Websites
08th March 2019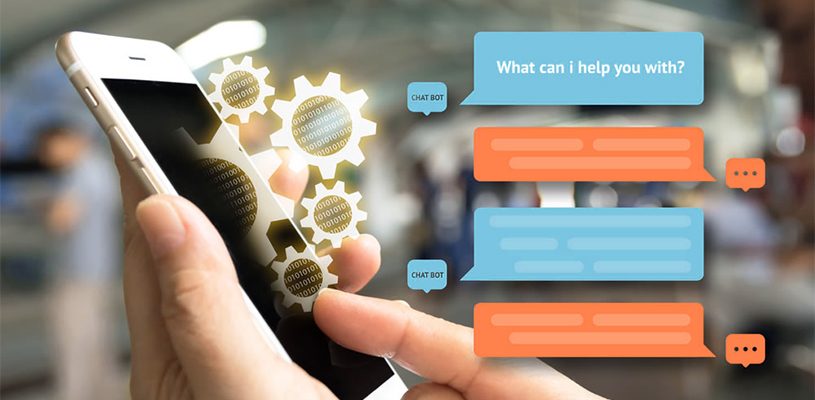 Chatbots are now assisting  universities with admissions and orientation. Yes, the same thing being used in tech startups and Fortune 100 companies to streamline customer relations, social media engagements and even content management. We have reached to a point that artificial intelligence is fast replacing human front desk staff and virtual assistants with machine-learning chatbot platforms. It doesn't stop there, there is a whole new digital ecosystem that changes the way we interact and communicate with each other and with machines and the educational technology that goes along with it. 
Many industry experts believe that chatbots are the future of technology in higher education. In fact, a recent Gallup study suggests that 68% of young people are into social media and instant messaging apps and so it makes sense that chatbots can bridge the gap between schools and students. Not only that, messaging apps now account to up to 3.5 billion users.
Most students, particularly the millennials, are now living a more digital mobile lifestyle. They digest a lot of information but sometimes, they don't have the luxury of time to sort and analyze every digital information they encounter. This is where intelligent chatbots come into the picture. Basically, these bots transform the process into casual Q&A conversations that provide instant answers to information that students want based on what the system has learned from them.
Customisation gap in curriculum
If you're going to ask a school principal, a college administrator or a university president, they will agree that higher education takes a lot of staff and students in a very large bureaucracy to manage. In order to save time and money, there is a growing and dynamic shift towards digital transformation of universities and colleges. With that trend, chatbots can fill in the gaps not covered by the educational system and the officials that run it.

The whole university experience can now be tailor-made to fit every student needs and preferences from admission to graduation like the University of Canberra is doing. On the other hand, Georgia State University implemented a digital strategy by incorporating chatbots to improve communication and after 4 months, 63% of students have used it resulting in over 200,000 messages! Just imagine, schools will have to hire more full-time staff to handle all those inquiries if there are no chatbots doing most of the work.
Challenges and Opportunities
Integrating a university-specific chatbot platform is basically, overhauling the school's digital strategy to attract, admit and retain more students without compromising quality of higher education. Here are some of the challenges university are facing and how chatbots can fill in the gaps:
Admission
Everything starts here from the moment prospective students check the website to the time incoming freshmen visit the campus. The chatbot will immediately provide all the necessary information so that a prospect can start the enrollment process. It will even provide updates about upcoming deadlines, missing or incomplete document notifications, and scholarships and financial aid options. No more long queues and wait-list stays.
Campus Guide
Normally, there is a campus guide that handles all the questions from new students and their parents. In a more digital world, a welcome bot can simply handle the job of a campus guide by providing instant answers to questions with up-to-date schedules, GPS-located maps, and virtual panoramic views of the campus
Scholarship
One of the most common yet complicated process that most students would navigate is getting scholarship. There are a lot of requirements, people to talk with, queues to line up, and assessment time to wait. But with a chatbot, it could effectively help students apply for financial aid and even suggest ways how it can be apportioned and arrange payment. Any changes to the status will be notified in real time.
Course Information
We are used to outdated, cumbersome and even faulty process when it comes to signing up to a particular course or checking academic progress. Students can register to specific course and find a particular class that fit their schedules. The bot can even create a suggested schedule that fit the student's major/minor.
Personal Information
When it comes to keeping up-to-date student information, privacy is a primary concern in a campus of thousands of students. Repetitive manual data-entry tasks of managing student information are removed from the process through automated bot platforms.
Transition to online education
In recent years, there is a growing demand for online courses as it is more flexible and convenient than regular courses offered in a physical classroom setting. Not only that, it provides skills-development programs accessible to people who don't have time to be in school. More importantly, it is the perfect environment for chatbots to make sure online students are part of the whole higher learning experience.
Data Integration
All the information from students and visitors are gathered in a database. In this sense, data integration in a chatbot platform would allow artificial intelligence to do most of the work by interacting with students and potential students about everything from upcoming lectures to course fee payments. Trends and patterns are analyzed through algorithms thereby providing administrators clear actionable insights that will help them provide better services and improve facilities. Just imagine how much work can be done with it.
Developing a unique chatbot system would need a more AI-driven system and data integration in order to accommodate all the possible question-and-answer scenarios without making it too predictable and scripted. Thanks to natural language processing (NLP) and natural language understanding (NLU) algorithms, chatbots will eventually anticipate what the person is asking and provide the best relevant answer from its database in an instant.
There is no doubt about it that chatbots are the future of communication between schools and their students. Aside from improving communication, increasing enrollment and delivering the right information have remained the main focus of universities and colleges. Although schools can save a lot of money by automating many repetitive and time consuming tasks associated in running it, it is also a huge investment to implement the perfect chatbot platform. Eventually figures will add up when the processes are streamlined and the cost of higher education goes down.
Future chatbots are becoming more intelligent and will become as human-like as possible so that communicating with them is seamless, Integrating it with education makes sure that the future generation is at ease with this technology.
 Winimy is one of the industry-leaders in the development and application of contextual intelligence through its custom chatbot platforms for universities and colleges. Know more about how you can integrate these technologies by getting in touch with us at [email protected].