Mall of America embracing chatbot to boost retail customer experience
10th May 2018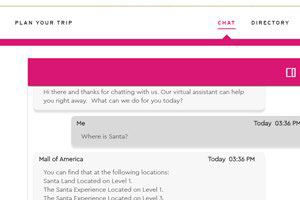 Mall of America, the biggest shopping and entertainment complex in North America, is diving into chatbot technology to drive a more rewarding, and likely calmer, customer experience, especially during the holiday shopping time.
The 26-year-old mall, located in in Bloomington, Minn., is advancing a unique location-based artificial intelligence chatbot following a successful deployment this past holiday season.
The chatbot, created in partnership with Satisfi Labs, is available on the mall's website, mobile app, Facebook page and even as a skill on the Amazon Alexa voice assistant device.
It represents Satisfi Lab's first full integrated retail location bot, tapping multiple data feeds over different customer touch points, that provides answers to customer queries in natural language in just seconds. Questions can range from food recommendations, to current attractions, events and gifting available in the mall's 5.6 million square feet location.