Chatbots and the future of conversational engagement
20th February 2019
A brief history of Chatbots
In its essence, a chatbot is, "A computer program designed to simulate a conversation with human users, especially over the Internet." Powered by AI, chatbots act as a virtual assistant that can interact with customers via the chat interface. It can be via the Website or platforms like Facebook Messenger, Slack, WhatsApp, or Alexa, Siri, etc.
As per a survey by Oracle, almost 80 per cent of businesses plan to use chatbots by 2020. Gartner forecasts that by 2020, over 85% of customer interactions will be handled by chatbots without a human.

Although they've technically been around since the 1950s, virtual chatbots only recently became popularized, as brands implement them to reach more customers with greater efficiency.
KLM Royal Dutch Airlines, for example, launched a chatbot via Facebook Messenger called "BB" (stands for BlueBot). The primary function of BB is to help passengers book tickets and keep them up to date on flight status, gate changes, and similar data-driven functions.
The company built the chatbot to assist its human support team, which handles more than 16,000 customer interactions weekly, according to coverage on the MarTech Today blog. In just the first six months of operation, BB sent nearly two million messages to more than 500,000 customers. Recently, KLM expanded the reach of the chatbot by hooking it up to Google Home, adding an audio/voice layer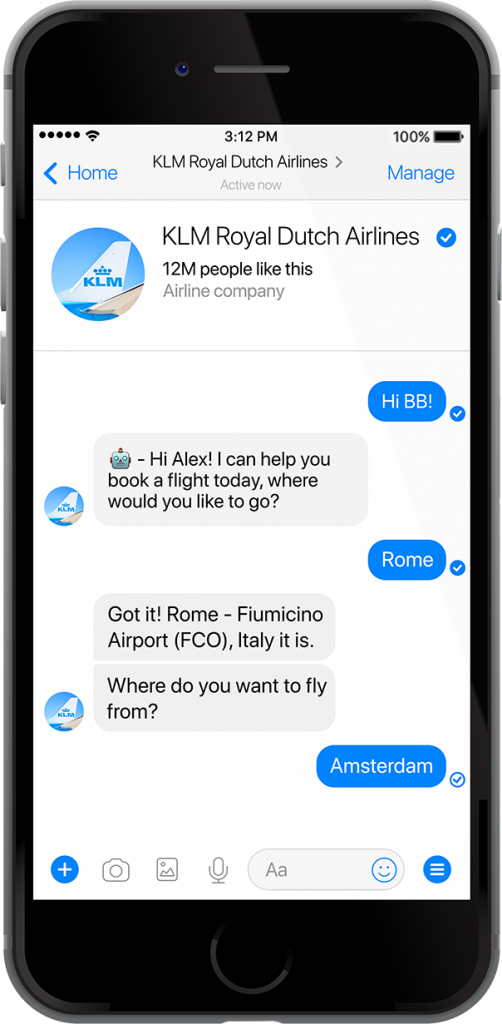 According to Martine, Director of Social Media at KLM Royal Dutch Airlines since the adoption of AI, KLM has seen quite a few improvements:
50% of all customer interactions are supported by AI
More than 5 million clicks have been saved by automated forms in the last five years
100% increase in case volume
Most importantly, AI has enabled KLM to speed up customer interaction by 50%, freeing up the customer service team to provide help where needed.
How can chatbots add value to your business?
The ubiquitousness of chatbots can be contributed to the changing social behaviour of customers. Until recently, humans were confined to communicating face to face and through letters and the traditional landline phone. Now, computer and smartphone use has dramatically accelerated, and texting, cellphones and email are the most commonly used modes of communication out of seven tested in this research. The use of social media is fourth. A study done by gallup confirmed that more than two-thirds of 18- to 29-year-olds say they sent and received text messages "a lot" the previous day, as did nearly half of Americans between 30 and 49. Younger Americans are also well above average in their use of cellphones, email and social media on a daily basis.
Drift's State of Conversational Marketing report, for example, found that people from all 195 countries are using online chat to start conversations on business websites. And that includes people who work at companies of every size, sector, and nearly every industry, as well as key decision-makers (41% of people starting online chat conversations with businesses are executives).
This is why chatbots have the advantage over every other digital marketing channel. They're direct, like email, but they boast 90% open rates — 3x better than email. They're conversational, like social media interactions, but that conversation is 1:1 and endless, and it is personalized based on first-party data, data that comes directly from the customers themselves. And chatbots, unlike retargeting ads, are "forever ads" that keep your brand top of mind the entire funnel, because you're able to continually re-engage customers.
There's no need to send them to a landing page or through a pre-planned journey on a website. The entire marketing and purchasing journey can be processed through a chatbot. Your bot can answer common customer questions, patch in a customer service or sales rep for more complex assistance, recommend items, process credit card payments, send you shipping notifications, and follow up after purchase. Chatbots have fundamentally altered the way brands engage customers, sell to them, and retain their loyalty over the long run.
In the on-demand, real-time world we live in, where everything seems to be just one click away, consumers expect to be able to find the information they're looking for quickly and easily. When they can't, they get frustrated, and could end up turning to competitors who are providing the type of online experience they're looking for.
Better customer experience, more loyal customers. Chatbots can be used in a number of different ways and can transform customer experience in a big way. Let look at some of the ways in which chatbots are impacting the customer service and customer experience:
Personalization

When interacting with customers, chatbots can access all the information about them and provide a tailor-made solution to their queries based on current requirement as well as past interactions with the company. By integrating chatbots with your CMS and CRM they can gather information about the customer, even interacting with them directly to understand their requirement. Based on the information they provide each customer with a personalized experience suggesting products, offers, incentive without disrupting their buying journey. This makes the customer feel understood and valued.
Customer Service 24/7

Customers often call up at odd hours and they expect an instant solution to their problem. A chatbot is a perfect solution for providing round the clock service. They offer customers a personalized interaction irrespective of the time, rather than wait for a response to a voicemail or email message. A chatbot can sense the emotions of the customer and if it detects an emotion such as anger that needs immediate intervention they pass on the call to a customer service agent for further assistance.
Automate Tasks

Chatbots have automated a number of human tasks such as gathering data and information, performing repetitive tasks, answering queries and FAQs and more. By automating the tasks that humans would do, chatbots provide customers with faster response. For example, when a customer searches for a product, the bot gives product recommendations and allows the customer to browse around. Bots also offer comparative products that can help the customer select the right product as per his liking.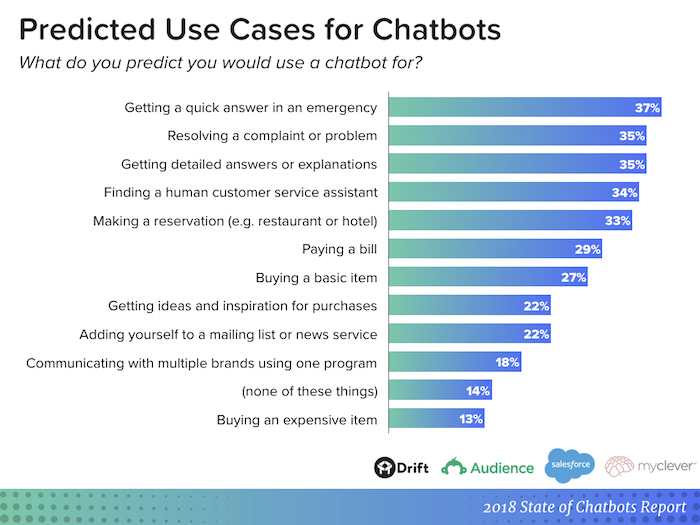 Chatbots are fundamentally changing the way people interact with brands. They're helping brands learn which messages resonate with people at what times, and they're enabling brands to engage in deeper, more significant conversations with their customers. Chatbots aren't just a marketing tool: they're a holistic, end-to-end customer experience channel that can help revolutionize a brand's sales, customer service, R&D efforts, and more.
Winimy is leading the way in the development and application of contextual intelligence through its voice AI and chatbot platforms that will suit your business needs and requirements. Know more about how you can integrate these technologies by getting in touch with us at [email protected].