Transforming Live Event Experience Through Holographic Technology
08th April 2019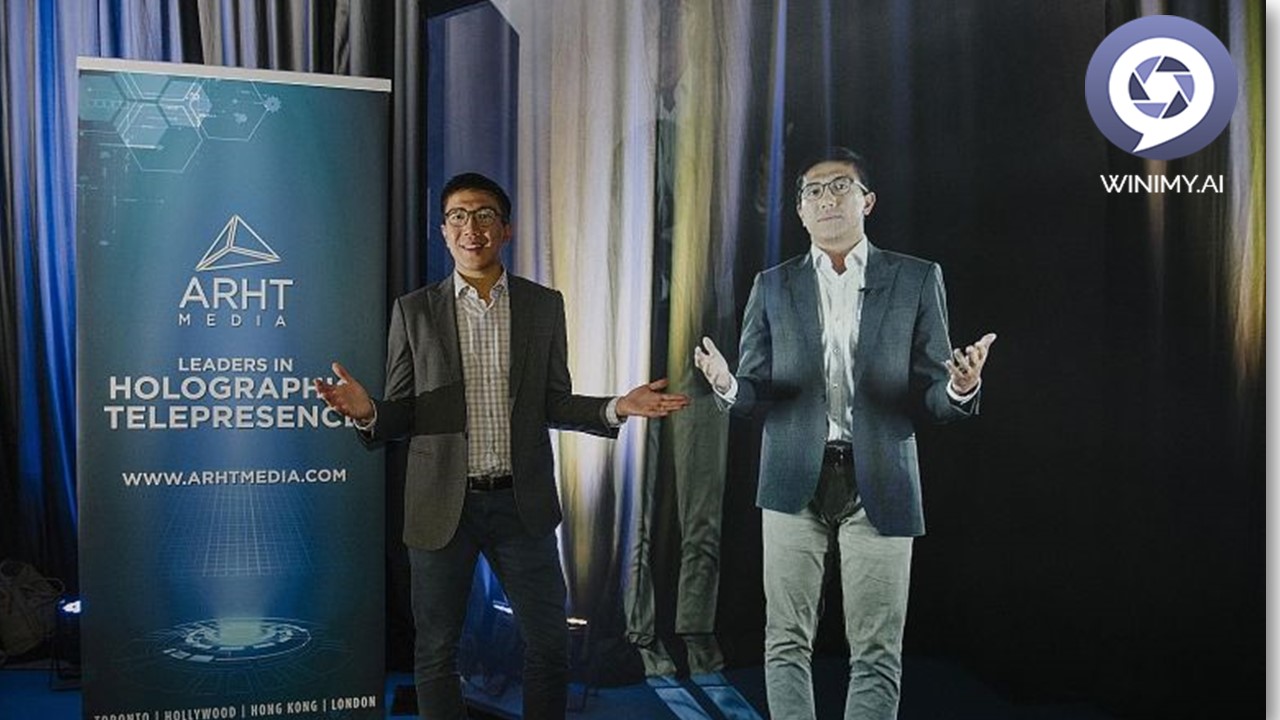 We are living in an extremely connected and globalized world where people are closer than ever before and the real-time flow of information is within everyone's grasp. Interacting with everyday content is no longer a one-way flow as it has become more tactile and interactive.
If you're familiar with  "Star Trek," Captain Kirk and his crew regularly use a 3D hologram projector in the Starship Enterprise to virtually transport someone light years away from where they are or simulate a virtual world. Remember the 3D shark that jumped out from the advertising billboard in "Back to the Future II?" What we used to see on blockbuster films is now possible as holographic technology can now be seen in live events and display presentations captivating audiences. Science fiction is no longer something we imagine and envision in the future, it is now a reality!
In a 2018 Tech navio market report, the global holographic display market is expected to grow by $3.6 billion by 2022 with over 27% compound annual growth rate and about 25.81% year-over-year growth rate. Furthermore, holographic displays for advertising is the main driver for this growth.
The growing trend of using holograms is pushing boundaries and defying expectations as to how we see around us. We live in a globalized world that has become smaller as this technology is bringing everyone closer than ever before.
The more dynamic and interactive digital holography is more effective in acquiring audience engagement than traditional media because the use of 3D projection along with high-definition displays provide an all-new experience to audience in stage performances, live presentations and teleconferences. It basically transforms a drab event into something more immersive and interactive thereby putting yourself into the public conversation.
Bring People Together
When it comes to event management, wowing the audience is the name of the game because leaving a lasting impression will make a brand the talk of the town. Event planners have to be innovative by taking advantage of new holographic technologies by bringing someone a celebrity or public figure. In the case of French presidential candidate Jean-Luc Melenchon, a hologram of himself was used in his campaign so he could make a speech in seven different cities at the same time.
What makes it even more impressive is bringing someone from the dead to talk and even perform in front of a lot of people. The Shoah Foundation has used holographic videos of Holocaust survivors to preserve their memories and personal insights of that terrible moment in human history. A hologram projection of the late Queen frontman Freddie Mercury was shown in front of a large audience at the 2015 Rock in Rio concert in Brazil, 30 years after his last performance there.
Amplify the WOW Factor
Holograms can bring people who can't attend conferences, meetings and other events that require them to talk in front to a very important audience. Event planners won't be stressed out to fly in every single speaker at a scientific conference since a holographic doppelgänger can stand in for them. For large events like trade shows and product launches, oversized holograms would be ideal so that it can create a larger-than-life effect
What It Means For Your Brand?
From holographic VR to augmented reality, companies can leverage the technology to create unique brand experiences thereby bridging the gap between the virtual reality and the real world. National Geographic has already used hologram on its magazine cover in 1984 even before it became the rage. Fast forward to 2019, the next generation of holographic devices have started to change the face of retail and marketing. More brands are harnessing the potential of immersive 3D holograms to reach out to a much wider market and form stronger relationships to a more younger, tech-savvy customers like never before.
Bringing 3D into Reality
Holofan is the latest holographic display system by Holofiction that allows anyone to create images that all but seem floating in the air. These plug-and-play systems can be installed anywhere and make immersive holographic technology accessible to a wide range of retailers and brands. It was successfully implemented in various projects with the United Nations Development Programme, Moet & Chandon, Pepsi, Samsung and other brands.
Putting Special Effects in Live Events
SXS Events has worked with big name brands and events by providing their HOLOX holographic effects that combine artistic set design concepts, HD digital projection and 3D animations floating around a presenter, event space or set. They worked with clients like the BBC, Samsung, Unilever, Apple, Audi, Armani and others.
Virtual Interactions
Incorporating smartphones into hologram presentations would make it possible for anyone to virtually interact and talk to a holographic image of a person or product. From museums to showrooms, anyone can use a smartphone to scan a QR code and download an app to know more about the hologram thereby bringing a whole new layer of user experience you can't find in other media.
We can't envisage what the holographic technology will look in the future. As it continues to improve and evolve the hologram technology will make a difference to society. Slowly this holographic technology that was considered a fantasy that existed only in movies and games, will soon becoming a part of our life. 
Holograms help capture people's attention, offer an immersive experience and facilitate a stronger relationship between brands and their customers. Will it help your brand? Only time will tell.
Interested to know how holograms can change your brand and live event experience? Know more about how you can integrate these technologies by getting in touch with us at [email protected].