How WhatsApp for Business Can Enhance Customer Experience in Hotels
09th November 2020
The hospitality industry, especially hotels that have been impacted by COVID-19, are trying to identify technologies that can help them to safely open and thrive in the pandemic. Contactless technology as well as interactive technologies, such as Artificial Intelligence (AI), chatbot, and the Internet of Things (IoT) is what most hotels are adopting. These are fast becoming the norm for bookings, automated check-in, and check-out, concierge services, in-room ordering, and to open rooms without keys. 
With WhatsApp being one of the most popular messaging tools, the launch of WhatsApp for Business API has helped both small and large enterprises connect with the customers faster.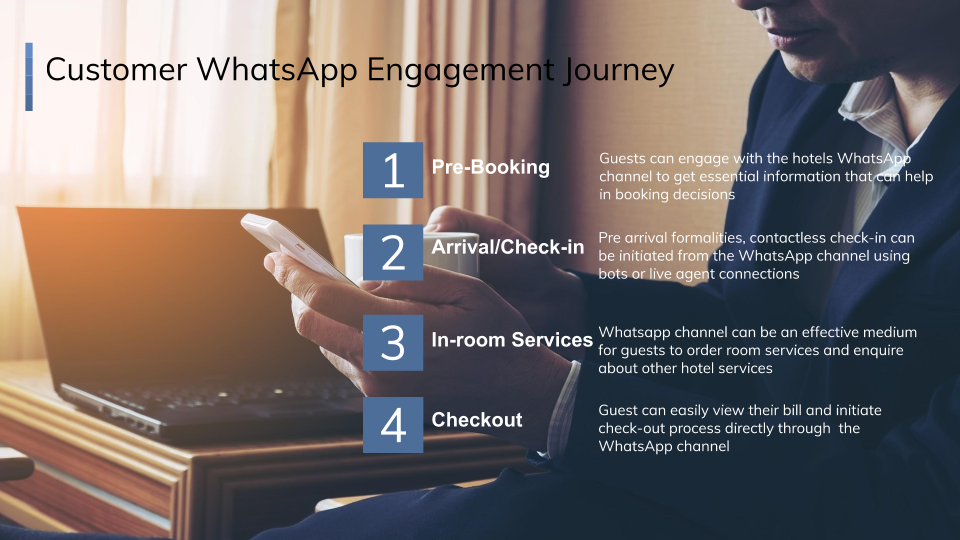 Get Started with WhatsApp Business for Hotels
With over 2 billion active users, WhatsApp is now the leading channel for p2p conversations. Even with the hotel industry, we already see WhatsApp being used at some levels because of its popularity amount customers. As customer behavior towards chat grows, this number will only grow manyfold. But this growth will lead to its own challenges where handling hundreds or even thousands of conversations every day/week will become more and more complex with the basic WhatsApp application.
Enter WhatsApp for Business API. This is the solution for enterprises looking to effectively manage multiple conversations, automate some of the chats using bots or even integrate 3rd party applications like CRM or ERP to better serve these customers.
WhatsApp Business Solution for Guest Experience
Many of the hotels are going contactless today, to ensure guest safety, during these stressful pandemic times. Generally, many customers prefer to communicate via the messaging app, for their bookings, check-in, check-out, or any other service rather than calling. Inform the customer that he/she can request for in-house services via the WhatsApp channel. Bots can also be used to automate certain functions like check-in, check-out, travel services, in-room service requests, and more. 
Once the guest has made the reservation, ask him/her to opt-in to receive notifications, updates, perform transactions, etc., via WhatsApp. On the day of the reservation, send them their booking confirmation with a notification about their room status, the time by when it will be ready, etc. Customer service can keep in touch with the customer on their WhatsApp throughout their stay. 
Automating Check-In and Check-Out Process
Prior to COVID, check-in was done by the front desk. The post-COVID scenario is changing. Guests want the least contact to stay safe. With your guests on WhatsApp, hotels offer a new, immersive, professional, and comfortable way to check-in after a long day's trip. They can use the single-touch check-in and check-out feature, keyless entry, Wi-Fi connection, 24/7 virtual support, and even request for on-demand cleaning service.  All with minimum or no contact, from their personal device.
The guests, by sharing their profile, their eating preferences, etc. in advance, can help hotels to customize and personalize their stay. Guests can also check bills, and make online payments. These features are beneficial for those who do not want to interact with other guests or hotel staff.
Moreover, hotels can proactively send a quick message to ask for feedback about their stay or any issues they face. Customers are likely to report service issues during their stay, which will enable hotels to improve the overall experience before it escalates and avoids negative post-stay reviews. 
Hotels can send a message asking, how the check-in process was, to ensure a smooth check-in process. For example:
Hotel: Hi [XYZ], How is your stay so far? We would love to hear from you.
Hotel: Hi [XYZ], Did you check into your room? Please let us know if you would like us to help you with anything during your stay.
These messages can help hotels keep track of their services and follow up on requests or issues that the customers have. AI-engineered customer engagement solution platforms like Winimy.ai can help with routing requests to the concerned departments.
Serving Guests with Safe, Seamless, and Personalized In-Room Experiences
Hotels can offer highly customized experiences for guests, across multiple partner hotels, in different parts of the world. Guests can pre-book services, if required, and even enjoy personalized offerings.
WhatsApp assists hotels to transition to contactless food ordering. Guests can browse through the menu and dining option and order room service, via their own smartphones. By making the in-room dining experience more efficient, accessible, and convenient, helps increase customer satisfaction.
WhatsApp for Business API with Bots
WhatsApp for Business API, along with AI bots has its own advantages.
Available 24×7

– A bot can

perform multiple conversations at once, giving a huge boost to efficiency.  

Access to Real-time Customer Service Dashboard

– Businesses can review and respond to queries and communication with human staff, through a delightful and convenient channel.

Powered by AI

– The BOT can continuously improve its capabilities based on preferences, and customer chatting patterns.

Seamless Integration

– Existing applications like CRM, and Transaction Management System can integrate APIs provided to enhance the capabilities of the solution.
 Conclusion
As work from remote locations becomes the new normal, people are traveling to distant locations that are safer, increasing the pressure on hotels to deliver comfortable and safe experiences. The digital millennials who are willing to travel prefer contactless personalized hospitality. By offering a personalized, contactless experience, hotels will have more guests eager to return.
Talk to us at [email protected] start your WhatsApp for Business Journey